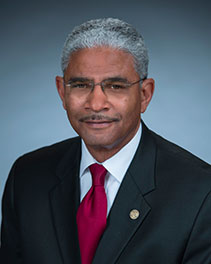 Charles D. Rousseau is serving his first term as commissioner and was elected in September of 2015 to fill an unexpired term for the late Commissioner Pota Coston.  Commissioner Rousseau holds the District 4 seat and his term of office will expire on December 31, 2018.
Commissioner Rousseau is a results-driven executive with over 25 years of diversified governmental, operational and public policy experience; a strong problem-solver with proven ability to manage multi-million dollar budgets and diverse teams to achieve results and foster collaborative outcomes.
As a 22-year resident of Fayette County, he has served on community boards such as the Fayette County Library Board, Fayette County School Board Construction Committee and the Fayette County Race Relations Committee.
Commissioner Rousseau is no stranger to government.  His professional experience includes:
Chief Operating Officer, Arnold Schwarzenegger's Atlanta Chapter of the Inner City Games
Chief Operating Officer, Enrichment Services Program, a regional program servicing six Georgia counties
Assistant Director/Recreation, Fulton County Department of Parks & Recreation
Assistant Director/Design & Development, Fulton County Department of Parks & Recreation
Assistant Director/Administration, Fulton County Department of General Services
Administrative Assistant to Vice-Chair of Fulton County Board of Commissioners
Area Manager of Citizens Advocacy Program, Fulton County Government
Deputy District Director to Los Angeles City Council Member
Charles' mission is to promote quality neighborhoods, adequate public safety services, enhanced recreational amenities, progressive economic development opportunities, and responsible fiscal priorities while being a voice, advocate and servant leader for Fayette County citizens.
Latest Information
A letter from Commissioner Rousseau:
Dear Citizens
Just a reminder you are encouraged to attend a meeting hosted by the Planning Commission at the request of the Board of Commissioners concerning a new zoning district that would allow mixed use development with single-family residence and business uses to run from a detached structure on the same property.
At the March 23 Board of Commissioners meeting, the motion was approved to send the proposed ordinance to create the PRBD-PUD zoning district back to the Planning Commission to allow more citizen education and awareness. This meeting has been scheduled in conjunction with the Planning Commission meeting on Thursday, April 20, 2017 at 7:00 p.m. at the Fayette County Public Library located at 1821 Heritage Park Way, Fayetteville, Georgia 30214 and I am personally encouraging each of you to attend. The creation of the PRBD-PUD zoning district will affect the entire county.
Those in attendance will be allowed to make public comments and/or ask questions regarding the PRBD-PUD during this meeting.
At the March 23 meeting I didn't realize that I have a scheduling conflict on April 20 and regret that I may not be able to attend the entire meeting.
It is my hope that you would share this with those in your community. If you have any questions, please feel free to give me a call at 470-217-2214.
Sincerly,
Charles D. Rousseau
District 4
Ordinance 2017-03 Planned Residential and Business Development-Planned Unit Development (PRBD-PUD). Click Here.