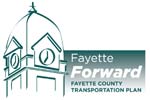 Fayette County 2010 Comprehensive Transportation Plan
In 2008 the Fayette County Public Works Department began the process of preparing a new Comprehensive Transportation Plan (CTP) for the County. The 2010 Plan builds upon the findings and recommendations of the 2003 CTP but independently assesses all recommended projects and includes a stronger emphasis on the relationship between land use and transportation.
Significant components of the 2010 CTP include an inventory and assessment of transportation and land use conditions, public outreach, identification of candidate projects, evaluation and assessment (including use of the Atlanta Regional Commission's Travel Demand Model), and plan recommendations.
The 2010 Comprehensive Transportation Plan is substantially funded by the Federal Surface Transportation Program (STP). The Atlanta Regional Commission is responsible for allocating the STP funds to local governments within its region and establishing minimum criteria for the scope of work associated with CTP development. The STP funds require a minimum 20 percent local match, which is paid by Fayette County.
If you have any questions regarding the 2010 CTP, please contact the Public Works Department at 770-320-6010.
Links to Fayette County's 2010 Comprehensive Transportation Plan
Table of Contents and Glossary of Terms
Ch 1 – Executive Summary and Transportation Action Plan
Ch 2 – Inventory and Needs Assessment
Ch 3 – Public Outreach
Ch 4 – Candidate Projects and Design Approaches
Ch 5 – Evaluation and Assessment
Ch 6 – Plan Recommendations
Appendix A – List of All Candidate Projects Considered
Appendix B – Summary of Public Outreach and Input
Appendix C – Candidate Project Descriptions
Appendix D – Travel Demand Model Outputs

Fayette County – Resolution to Support the 2010 CTP
City of Fayetteville – Resolution to Support the 2010 CTP
Peachtree City – Resolution to Support the 2010 CTP
*

Users must have Adobe Acrobat Reader® installed on their computer to view or print this file.This is a free download available from the Adobe website.
For additional information please contact:
Fayette County Public Works
115 McDonough Rd
Fayetteville, GA 30215

(770) 320-6010
(770) 719-0871 Fax