Excellence in Design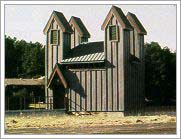 Due to the uniqueness of the design, the pump house on Lake Peachtree was featured in Metal Architect, (December 1990). The System has added several pump houses since then. The buildings are not only functional but blend with the surroundings.
Excellence in Financial Reporting
The Government Finance Officers Association (GFOA) awarded a Certificate of Achievement for Excellence in Financial Reporting to the Water System for its component unit financial report for the fiscal year ended June 30, 2014. The Certificate of Achievement is the highest form of recognition for excellence in state and local government financial reporting.
In order to be awarded a Certificate of Achievement, the government published an easily readable and efficiently organized component unit financial report. This report satisfied both generally accepted accounting principles and applicable legal requirements.A Certificate of Achievement is valid for a period of one year only. We believe that our current component unit financial report continues to meet the Certificate of Achievement Program's requirements and we are submitting it to the GFOA to determine its eligibility for another certificate.
Award Certifications Fayette County Water System
Georgia Utilities Coordination Council- Golden Backhoe Safety Award 2019
Georgia Utilities Coordination Council- Golden Backhoe Safety Award 2018
Georgia Utilities Coordination Council- Lester Feathers Safety Award 2018
Georgia Association of Water Professionals – Gold Award at South Fayette Water Treatment Plant 2018
Georgia Association of Water Professionals – Gold Award at Crosstown Water Treatment Plant 2018
Georgia Association of Water Professionals – Gold Award at South Fayette Water Treatment Plant 2017
Georgia Association of Water Professionals – Gold Award at Crosstown Water Treatment Plant 2017
Georgia Association of Water Professionals – Best Tasting Tap Water in District 3 Award 2016
Georgia Association of Water Professionals – Gold Award at South Fayette Water Treatment Plant 2016
Georgia Association of Water Professionals – Gold Award at Crosstown Water Treatment Plant 2016
Government Financial Officers Association – Excellence in Financial Reporting 2014
Government Financial Officers Association – Excellence in Financial Reporting 2013
Government Financial Officers Association – Excellence in Financial Reporting 2012
Government Financial Officers Association – Excellence in Financial Reporting 2011
Georgia Association of Water Professionals – Gold Award at South Fayette Water Treatment Plant 2011
Government Financial Officers Association – Excellence in Financial Reporting 2010
Georgia Association of Water Professionals – Gold Award at Crosstown Water Treatment Plant 2009
Government Financial Officers Association – Excellence in Financial Reporting 2009
Georgia Association of Water Professionals – Gold Award at Crosstown Water Treatment Plant 2007
Georgia Association of Water Professionals – Gold Award at South Fayette Water Treatment Plant 2007
Georgia Association of Water Professionals – Gold Award at Crosstown Water Treatment Plant 2006
Georgia Association of Water Professionals – Gold Award at South Fayette Water Treatment Plant 2006
EPD Drinking Water Program Area Wide Optimization Program – South Fayette Water Treatment Plant 2005
EPD Drinking Water Program Area Wide Optimization Program – Crosstown Water Treatment Plant 2005
Georgia Water & Pollution Control Association – Gold Award at South Fayette Water Treatment Plant 2005
Georgia Water & Pollution Control Association – Gold Award at Crosstown Water Treatment Plant 2005
Georgia Water & Pollution Control Association – Gold Award at South Fayette Water Treatment Plant 2004
Georgia Water & Pollution Control Association – Gold Award at Crosstown Water Treatment Plant 2004
Georgia Water & Pollution Control Association – Gold Award at South Fayette Water Treatment Plant 2003
Government Financial Officers Association – Excellence in Financial Reporting 2003
Government Financial Officers Association – Excellence in Financial Reporting 2002
AWWA Award of Excellence for Superior Safety Record 2001
Government Financial Officers Association – Excellence in Financial Reporting 2001
Georgia Water & Pollution Control Association – Gold Award at Crosstown Water Treatment Plant 2000
Government Financial Officers Association – Excellence in Financial Reporting 2000
Government Financial Officers Association – Excellence in Financial Reporting 1999
Georgia Water & Pollution Control Association – Gold Award at Crosstown Water Treatment Plant 1998
Government Financial Officers Association – Excellence in Financial Reporting 1998
Government Financial Officers Association – Excellence in Financial Reporting 1997
Government Financial Officers Association – Excellence in Financial Reporting 1996
Georgia Water & Pollution Control Association – Gold Award at Crosstown Water Treatment Plant 1995
Georgia Water & Pollution Control Association – Outstanding Operation of a Surface Water Treatment Plant 3 – 14 mgd capacity 1995
Government Financial Officers Association – Excellence in Financial Reporting 1995
Government Financial Officers Association – Excellence in Financial Reporting 1994
Government Financial Officers Association – Excellence in Financial Reporting 1993
Government Financial Officers Association – Excellence in Financial Reporting 1992
Government Financial Officers Association – Excellence in Financial Reporting 1991
Government Financial Officers Association – Excellence in Financial Reporting 1990
Government Financial Officers Association – Excellence in Financial Reporting 1989
Government Financial Officers Association – Excellence in Financial Reporting 1988