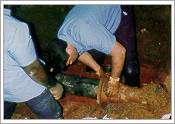 The Fayette County Water System has 620 miles of water lines of various diameters that must be maintained in addition to the new lines and meters that must be installed.
Fire hydrants are flushed at regular intervals to maintain water quality in the distribution system.
Maintenance crews take care of the grounds and buildings of the Water System Line locations. Locating water lines for other utilities is an important function of the Water System operation. We are a member of the Utilities Protection Center, Inc. and locate water lines as requested by others.