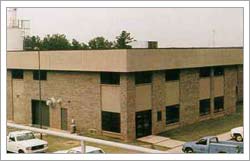 The System's water treatment plant is located at 3500 TDK Boulevard in Peachtree City. This plant has the capacity to produce 13.5 million gallons per day.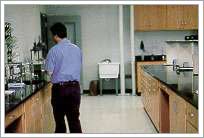 State certified operators perform a variety of laboratory tests on source water and finished water samples to monitor the overall water quality and to evaluate the performance of the treatment process.
A variety of chemical and biological tests are performed daily to insure compliance with State and Federal Requirements for safe drinking water.

Filters are individually controlled to permit periodic cleaning.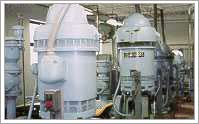 A variety of pumps are used to distribute the finished product to different areas of the County.
As water goes through the treatment process, it is constantly being monitored by sensitive laboratory equipment that can measure substances in parts per million, parts per billion and even parts per trillion.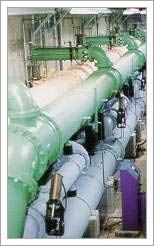 Just imagine if you have one million blue blocks, each an inch cube about the size of an ice cube. That would fill a room 8 feet high, 8 feet wide, and 9 feet 5 inches long, about the size of a small bedroom. If you replace one blue block with one red block, that would be one part per million. To have one part per billion, you would need one thousand rooms!
To have one part per trillion, you would need one million rooms! A big city full of blue blocks and just one red one! Water utilities are careful to remove even a tiny part if it is believed to be unsafe for humans.*