West Nile Virus
West Nile Virus Makes Its Entrance Into Georgia
An Unwelcome Guest - But Not a Cause for Panic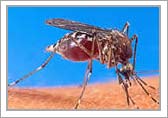 In April, 2001, the Fayette County Health Dept. -authored article on West Nile Virus (WNV) appeared in THE CITIZEN newspaper. At that time, the arrival of West Nile Virus was anticipated: but now, it is certain that our "unwanted guest" has arrived.
The Georgia Department of Human Resources reported eight more birds infected with West Nile virus on 7/27/01.
Berrien, Ware, and Fulton have been added to the list of Georgia counties where birds infected by West Nile Virus have been found. The virus had already been detected in Lowndes and DeKalb counties.
There have been many stories in the papers and on the news about this virus: some in greater detail than others. What we must realize is that mosquito-borne viruses (arboviruses like West Nile) have been active in Georgia for many years. Eastern Equine Encephalitis (EEE), St. Louis encephalitis (SLE), and LaCrosse encephalitis (LAC) are the most common arboviruses here. Human infections with these mosquito-borne viruses are very rare and can be prevented (in most cases) by taking simple measures to avoid mosquito bites. WNV is a disease of birds that is spread by mosquitoes. The only way for humans to get an arbovirus like WNV is from the bite of an infected mosquito. Not every mosquito will be infected. Moreover, of the few (humans) who do get the virus: less than 1% will have severe symptoms
It follows that reducing the number of mosquitoes that we are exposed to decreases the likelihood of being bitten. Let us review some preventive measures.
Try not to be outdoors in areas where mosquitoes are known to be; particularly at dawn, dusk, and early evening. These are prime feeding times for mosquitoes.
Wear long-sleeved shirts and long pants when outside for extended periods in the areas where mosquitoes are likely to be.
Spray clothing, and/or apply an insect repellent (preferably one containing DEET) to exposed skin. Always read instructions carefully before using any insect repellant, especially on infants, small children, or persons with allergies. For children use products that contain 10% or less DEET. For adults use products that contain no more than 30% DEET. DO NOT USE DEET ON INFANTS OR PREGNANT WOMEN. Be sure to wash off treated skin when mosquito exposure has ended.
Most mosquitoes don't fly very far away from their breeding place, and need only a little water in order to lay hundreds of eggs. Those eggs can survive for up to a year until conditions are favorable for them to proceed to the next level of their development. You know that empty flower pot that you've had sitting out back for awhile? If it can hold water: it easily becomes a mosquito breeding place. Almost anything that will hold water for one week can produce these pests! One of our best defenses then is not to give mosquitoes a chance: eliminate all standing water from your property.
Properly throw away or destroy old tires.
Dispose of tin cans, jars, plant pots, and any other container that can hold water - or store them in a dry place.
Make sure roof gutters drain properly. Clean clogged gutters in the spring and fall.
Store wheelbarrows, tubs, buckets, barrels, and boats upside down, so that water cannot accumulate in them. (Cleaning an article that has been emptied of standing water with a solution of bleach and water will get rid of those eggs that have adhered to the sides of the container.)
Screen or cover rain barrels.
Change the water in birdbaths, small wading pools, and pet dishes at least once a week. Aerate ornamental ponds or stock them with fish.
Properly chlorinate backyard swimming pools. Cover any pool that is not in use so rainwater and leaves do not accumulate in it. Be sure the cover does not hold pockets of water.
You may ask the question: "If controlling mosquitoes is so important, why isn't our community being sprayed? The use of pesticides to control adult mosquito populations (adulticiding) is NOT the most effective or the most cost-efficient method of mosquito control. It would be impossible to kill every single mosquito, especially when some are active during the day, some at dawn, some at dusk, and still others are active only at night. There is no pesticide that only kills mosquitoes. Butterflies, ladybugs, etc. would also be killed by pesticide spraying. The best way to control mosquitoes is to prevent them from breeding or to eliminate them before they become adults (larvaciding). You can have a significant effect on local mosquito populations by reducing mosquito breeding areas on your property. If some areas of standing water still exist, you may wish to consider using a larvicidal product that is sold in some hardware stores.
Finally, with the resent discovery of WNV in Georgia; calls to health departments reporting dead birds have skyrocketed. The laboratory service can process only so many at a time, and we are aware of some 400 birds being tested there now. The State will receive and process only three classes of bird for the time being. They are: crows (black feathers, beak, and eyes), bluejays, and raptors (birds of prey). Tests cannot be done if the bird has been dead for more than 24 hours. We here at the Fayette County Health Dept. ask for your understanding. It would be impossible for our Environmental Health staff to go out on every report of a dead bird sighting, and continue to perform their other duties. Know that every report is logged in at the department after asking the caller for important information, and that these reports are sent to the State. However, staff will not be able to pick up every dead bird. To make a report, or obtain further information: you may reach Environmental Health at: 770-305-5415.
West Nile Virus Related Links :
Georgia Division of Public Health
Centers for Disease and Control (CDC)
*

Users must have Adobe Acrobat Reader® installed on their computer to view or print this file.This is a free download available from the Adobe website.