Public Notices
Fayette County Animal Services Urges Residents to Spay and Neuter their Pet
Spaying or neutering your pet is one of the greatest gifts you can provide your pet and your family. These medical procedures help control pet overpopulation and may also prevent medical and behavioral problems from developing, allowing your dog or cat to lead a longer, healthier and happier life...Learn more.
---
Animal Control Staff attends the Animal Law Symposium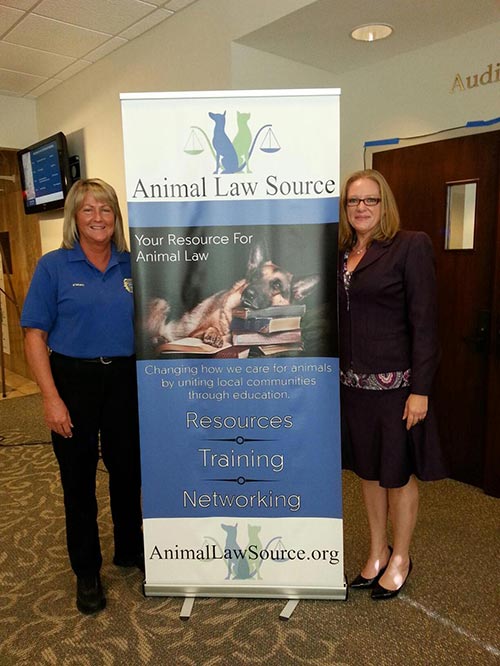 Senior Animal Control Officer Donna Evans, and Assistant Solicitor General Audrey Cruzan recently attended the Animal Law Symposium at the State Bar of Georgia. The two day event was put on by Animal Law Source. The purpose of the conference is to educate prosecutors, law enforcement, animal control officers, shelter staff, and other agencies about the importance of a coordinated response to cases involving animals. Guest speakers included and array of experts in the legal and law enforcement fields. One guest speaker was Victoria Stilwell, a professional dog trainer and TV personality on Animal Planet. It was an excellent opportunity to update our knowledge on current laws, network with local agencies, and share resources. Anyone interested in reading more about animal law in our state can go to the new Animal Law Source website at https://www.theanimalprotectionsociety.org/animal-law-source (AnimalLawSource.org)
Directions
Our address is not GPS friendly. We are located on the south end of Highway 74 just north of Redwine Road.
---
At the Fayette County Animal Shelter we take pride in our services and animals. We maintain a mutually beneficial relationship between strays and the safety of our community by having a proactive approach to what has become a perpetual problem, homeless animals. Our services include assistance for homeless, injured, abused and vicious animals; while keeping public safety as our number one priority.
The Fayette County Shelter is here to serve, our officers are here to pick up strays, investigate abuse, help find your lost pet, and assist with emergencies (i.e. vicious animals, in-home wildlife removal and hazards). You can rest assured that if we are not able to help you ourselves, we can at the very least point you in the right direction.
Unfortunately, the Shelter can not function optimally on its own. We need your help in order to find many of these animals homes. If you may not be able to provide a home yourself, you can always do the next best thing, tell a friend. On any given day the Fayette County Animal Shelter has a multitude of dogs and cats of all ages (yes, puppies and kittens too, even some purebreds), sometimes even rabbits, birds, guinea pigs and other exotics. We even work with trainers and veterinarians to ensure that your new adoptee is receiving the best services, and you are receiving the best prices.
---