County Administrator
Steven A. Rapson, CPA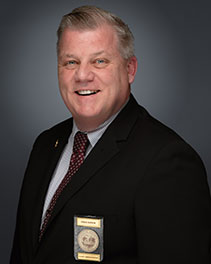 Greetings and welcome to Fayette County, Georgia! Whether you are a citizen of our county or a guest visiting with us for a while, you are welcome.

I am honored to serve as the County Administrator of one of the fastest-growing counties in Georgia. Fayette County is a special place where rural beauty and traditional roots have been meticulously blended with urban convenience and amenities. Located only 30 minutes from the heart of Downtown Atlanta, Fayette County is a great community.

Fayette County Government encompasses a diverse group of talented individuals, who come from all walks of life and work together to make our county exceptional. We provide a full range of services to our citizens. Our coveted quality of life has been accomplished through a long history of strategic and comprehensive planning efforts by public officials, business and community leaders, and citizens from throughout Fayette County which has established it as the "Pearl of Metropolitan Atlanta's Southern Crescent Region".

We believe in unity and teamwork. We eliminate bureaucracy and encourage working together within the County for the well-being of our citizens.

Thank you for visiting our website and for your interest in Fayette County.
---
About: Steven Rapson ensures the day-to-day operation of the County and the delivery of services to the citizens. He has served as an Elected Official, County Manager, City Manager, Assistant City Manager, Chief Financial Officer, and Treasurer of the South Fulton Regional Jail Authority. He has a strong history in various government scenarios including County, City, and School Systems. Mr. Rapson has 27 years of experience as a Certified Public Accountant. He is a graduate of Georgia State University. Steve and his wife live in Peachtree City. They are active in the Fayette County Special Olympics where Mr. Rapson has served as the Treasurer for several years.
Contact:
140 Stonewall Avenue West
Suite 100
Fayetteville, GA 30214
Office: 770-305-5100
srapson@fayettecountyga.gov