Note: The Tax Assessors' Office does not generate tax bills, nor does it directly receive homestead and/or school exemption applications. The Tax Assessors' Office is responsible for the valuation of property. For information on tax bills, homestead and school exemptions, please review the Tax Commissioner's Office website at www.fayettecountytaxcomm.com, or contact them directly at 770.461.3652
The Board of Tax Assessors is comprised of three local taxpayers who are appointed for six year terms by the Board of Commissioners. The primary responsibility of the Board of Tax Assessors is to appraise property at fair market value as of January 1 of each year.
The Fayette Assessors have a staff of thirteen appraisers, one GIS mapping technician, one administrative assistant and one appraiser aide. These appraisers track ownership changes, parcel boundaries, zoning, use, building and property characteristics, tax exemptions, trends in sales prices, constructions costs, rents, incomes, expenses and personal property assets in order to appraise property each year. Real estate, furniture, fixtures, machinery, equipment, inventory, boats, aircraft, heavy duty equipment, mobile homes and motor vehicles are appraised by staff.
The appraisal staff is required to adhere to the Appraisal Procedures Manual established by the State of Georgia Department of Revenue. Much of the data gathered and used by the Assessors' staff is public and can be viewed during normal business hours, 8 a.m. to 5 p.m., Monday through Friday.
News & Announcements
Attention Official Tax Matter
After attempts to deliver through the United States Postal Service and attempts to discover the taxpayer's current mailing address, the attached Undeliverable Notices of Assessment for tax year 2020 is hereby posted.
2020 Appeals Deadline
Property Tax Appeal Deadline Extended to August 27, 2020
THE CHIEF JUSTICE OF THE GEORGIA SUPREME COURT HAS ISSUED AN ORDER DECLARING A STATEWIDE JUDICIAL EMERGENCY, WHICH HAS BEEN EXTENDED SEVERAL TIMES, THAT EXTENDS THE DEADLINE FOR FILING CERTAIN AD VALOREM TAX APPEALS.
Pursuant to OCGA § 38-3-62, during the period of the Order Declaring Statewide Judicial Emergency, the Chief Justice "suspends, tolls, extends, and otherwise grants relief from any deadlines or other time schedules or filing requirements imposed by otherwise applicable statutes, rules, regulations, or court orders, whether in civil or criminal cases or administrative matters, including, but not limited to any: . . . (10) time within which to appeal or to seek the right to appeal any order, ruling, or other determination . . . ." The most recent Extension Orders reimposed the deadlines referenced above, such that, for notices of assessment issued between March 14, 2020 and July 13, 2020, the 45-day appeal period began running on July 14, 2020, making the new appeal deadline August 27, 2020.
Assessment Notices mailed
May 8, 2020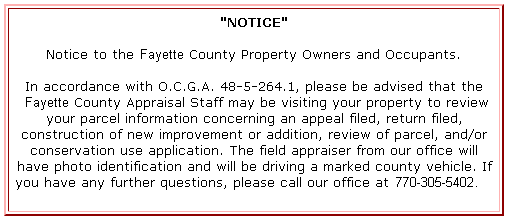 Fair Market Value:
Official Code of Georgia 48-5-2. Definitions. (3)
Fair Market Value sale is an "Arm's length, bona fide sale" meaning a transaction which has occurred in good faith without fraud or deceit carried out by unrelated or unaffiliated parties, as by a willing buyer and a willing seller, each acting in his or her own self-interest, including but not limited to a distress sale, short sale, bank sale, or sale at public auction.