Meet the Administration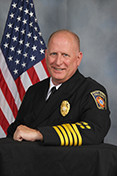 Fire Chief David Scarbrough
Chief David Scarbrough began his career with the Department of Fire and Emergency Services in 1986 as a Firefighter, he then became a Lieutenant in the Bureau of Fire Prevention and was then promoted to the position of Fire Marshal.  After 18 years in that position, he was named the Chief of the Department.  Chief Scarbrough holds a Bachelor's degree from the University of Georgia.
Chief Scarbrough's responsibilities include the direction and oversight of the 145 personnel that responds from 9 stations throughout Fayette County.  Chief Scarbrough works closely with the County Commissioners and the Administration of the County to ensure the public's safety through comprehensive planning, fiscal responsibility, and excellence in service to our citizens and community is always paramount.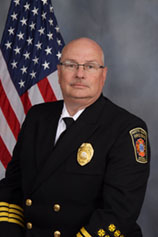 Deputy Fire Chief Tom Bartlett
Deputy Chief Bartlett started his career in 1981 as a volunteer firefighter. In January of 1981 the County hired the first two paid firefighters, Chief Bartlett was one of the original two and assigned to Station #4. Chief Bartlett was promoted to Lieutenant along with six others in the first promotional exam administered by the county. In addition to serving as a Firefighter and Station Officer, Chief Bartlett has served as Captain and Battalion Chief in charge of fire training.
Chief Bartlett is certified through the National Professional Qualifications System as a Fire Instructor and Fire Officer 4. He is a graduate of the National Fire Academy, Executive Fire Officer Program and is recognized as a Chief Fire Officer by the Commission on Professional Credentialing. He is a graduate of DeKalb College with an Associate's Degree in Fire Science, a graduate of Shorter College with a Bachelor's Degree in Management, and a graduate of Columbus State College Law Enforcement Command College with a Master's Degree in Public Administration. He is both a State of Georgia and Nationally Registered Paramedic.
Chief Bartlett is a member of the International Association of Fire Chief's and a member of the Metro Atlanta Fire Chief's. He attends Brooks United Methodist Church and resides in south Fayette County with his spouse Lee Ann and daughter Alexandra.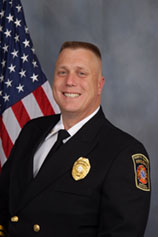 Division Chief Steven Folden
Division Chief Steven Folden joined Fayette County Fire and Emergency Services in 1985 as a volunteer while still in High School. In 1987, he was hired on as a paid Firefighter/EMT, working  first as Firefighter/Paramedic, a station Lieutenant than as a Captain/EMS Educator in the training division. He now serves as the Division Chief of Administrative Services. His primary responsibilities include Fire and EMS training, EMS billing, policy and protocol development, infection control, HIPPA compliance, and departmental quality assurance. He also serves as the EMS director and acts as liaison with other departments and services. Division Chief Folden sits on many local, state and national boards for Emergency Medical Services, and has an Associate's Degree in Paramedic Technology and a Bachelor's degree in Fire Science. Division Chief Folden's career with Fayette County has covered more than 28 years.