Fire & Emergency Services
Fayette County's combined Fire and Emergency Services provides the citizens of Fayette County with high quality emergency services. Learn more about our qualifications and services below.
---
Fire Services
The Fayette County Department of Fire and Emergency Services is a combination fire suppression and emergency medical response department that responded to 8,535 fire and EMS calls in 2014.  The department responds to an area approximately 160 square miles and includes all unincorporated areas, the Towns of Tyrone, Brooks, and Woolsey and provides emergency medical services to the citizens of Fayetteville.  Our 145 employees respond from 9 strategically located stations through the county and serve a population of approximately 72,000 residents.  They routinely respond to residential and commercial structure fires, brush fires, vehicle accidents as well as all requests from the public to respond to a variety of other types of emergencies.  One often misunderstood fact about our department is that all of our firefighters are cross-trained as both firefighters/EMTs and Paramedics.  It is not uncommon for a fire apparatus to show up to a medical emergency call and an ambulance to a fire call.  Rest assured that each employee regardless of the vehicle is cross-trained and has the equipment necessary to meet the needs of the emergency.  Additionally all of the department's fire apparatus are licensed first responders.  The department is proud to have a rapid response to emergencies in our community of just over 5 minutes.
In addition to suppressing fire and responding to emergencies our firefighters are busy  in their response areas conducting business inspections, ensuring that fire hydrants are in working order, working on pre-fire plans of business, as well as maintaining the station that they are assigned.  Our firefighters also conduct public relations events in an effort to educate the public about fire safety and about our department. 
All emergencies should be reported by calling 911 so that they can dispatch the appropriate vehicle to your emergency.
---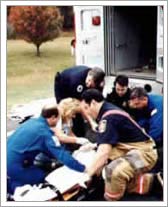 Emergency Medical Services
The combination of fire and emergency medical response has been the key to the success of our department. The department's 138 firefighters, EMTs and paramedics routinely work traffic accidents, cardiac emergencies, medical emergencies, trauma and other assist type calls. The department utilizes 5 Advanced Life Support (ALS) medic units. All medic units are equipped as mobile intensive care units (MICU) with advanced cardiac monitoring, portable ventilation, and IV medication pumps to handle the most critical patients. Additionally, each shift has several certified Critical Care Transport paramedics trained in advanced therapies. The department also equips all fire engines and the squad unit as ALS first responder units. These vehicles are often seen at emergency scenes providing the same level of care as our ambulances. Fayette County is recognized at the regional and state level as a leader in Emergency Medical Services.
The department prides itself on progressive medical care by initiating programs such as the 12 lead Thrombolytic program, CPR Phase 1 program, Automatic External Defibrillators (AED) in law enforcement vehicles and many others.The department averages a 4:15 minute response time countywide. The department is aggressively pursuing National Registry Certification for all employees.

---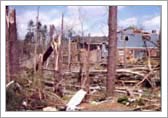 Emergency Management
The Fayette County Department of Fire and Emergency Services is the designated emergency management agency for our community. This division of the department proved to be very effective especially when Fayette County was declared five different times as disasters areas by the Federal Emergency Management Agency. Floods, tropical storm, straight line winds, hail, and heavy snowfall left citizens looking to emergency management for assistance.  
Utilizing the Integrated Emergency Management System, the division was able to adequately meet the needs of our community. The division also is responsible for coordination of the Fayette County Resource Council and LEPC. The program has twice been recognized for its exemplary practices by the Federal Emergency Management Agency. Mitigation, preparedness, response and recovery activities, public information, and the coordination of the Emergency Operation Center are also the responsibility of the division of Emergency Management.
The Department is also the Homeland Security Agency for Fayette County. Partnering with many local law enforcement, fire and EMS agencies, public health, state and federal organizations, the Department has and is continuing to coordinate efforts to identify, plan for and mitigate possible terrorism against critical infrastructure and our community.