Applications
Application Guidelines
Minimum Qualifications

Applicants must meet the specifications of the position as defined in the classification plan. Experience can be substituted for education, or vice versa, or an equivalent combination of experience and education. Possession of a valid Georgia Driver's License with a satisfactory driving record may be required.

Selection Procedure

Position openings will be posted for (3) three working days. In the event no county employee applies or is deemed qualified, or no qualified departmental employee is promoted, the position will be filled from applicants outside county government.

The selection procedure requires an evaluation of relevant education and experience and a personal/panel interview of qualified applicants, unless otherwise noted. Some positions have a prerequisite of passing an examination.

Salary Ranges

For most positions, the salary listed is the starting salary. If a range is listed instead, then salary is commensurate with experience.

Testing Procedures

Examinations will be administered, as a prerequisite, at a specific time and location by the Human Resources Department or applicable Department Representative.

Expiration Date

A completed Application must be received in the Human Resources Department by 5 pm on the expiration date. Applications received after the expiration date will not be accepted.

Reasonable Accommodation

Applicants with disabilities may request reasonable accommodation during the application process by contacting the Human Resources Department prior to requiring the accommodation.
Accessing the Online Job Application
All job applications are now entered into our secure MUNIS website at:
https://fayetteemployees.munisselfservice.com/employmentopportunities/default.aspx
At the above website you will have TWO choices ...
First Time Users: Scroll down the page and click the appropriate Apply link to enter a new application if you are a first time user.
Returning Users: Click Log in here to access your job application to make changes or additions to the application you currently have on file.
Sample Screen: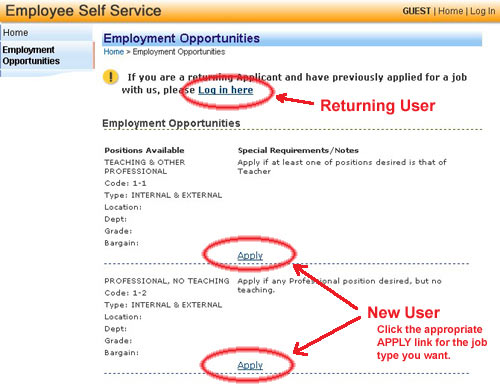 E-Verify User ID Number
Fayette County E-Verify User Identification Number
In compliance with the Georgia Security and Immigration Compliance Act, Fayette County accesses the federal E-Verify system to electronically verify the employment eligibility of newly hired employees. The E-Verify system is a partnership between the U.S. Department of Homeland Security and the Social Security Administration, and is available to the county free of charge. The county's federally issued E-Verify user identification number is 47566. Authorization to use E-Verify was obtained in July 17, 2007.