NEWS & EVENTS
FEMA, in coordination with the Federal Communications Commission (FCC), will conduct a national test of the Integrated Public Alert and Warning System (IPAWS) on Oct. 4, 2023.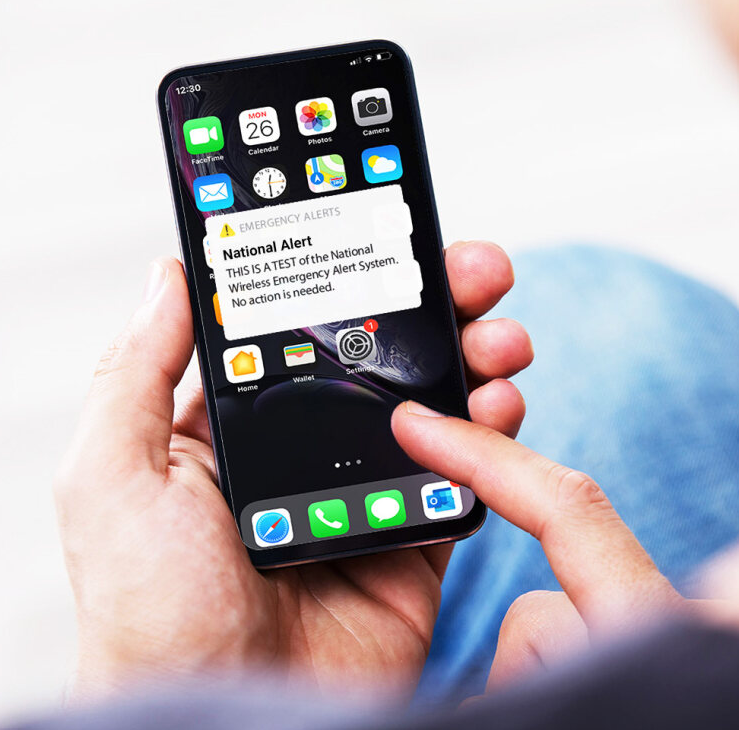 IPAWS National Test 2023
The test will reach millions of mobile phones across the country via Wireless Emergency Alerts (WEA), radio and television via the Emergency Alert System (EAS), and other communication pathways.
Test will take place at approximately 2:20 p.m. ET on Wednesday, Oct. 4, 2023.
Backup testing date is Oct. 11.
About the National Test
The national test will help ensure that Wireless Emergency Alerts (WEA) and the Emergency Alert System (EAS) continue to be effective ways to warn the public about emergencies, particularly those on the national level.
All major U.S. wireless providers participate in Wireless Emergency Alerts and will transmit the national test to their subscribers.
If your mobile phone is on and within range of an active cell tower from a participating wireless provider, you should receive the national test. Wireless providers will transmit the national test for 30 minutes, but your phone should only receive it once.
---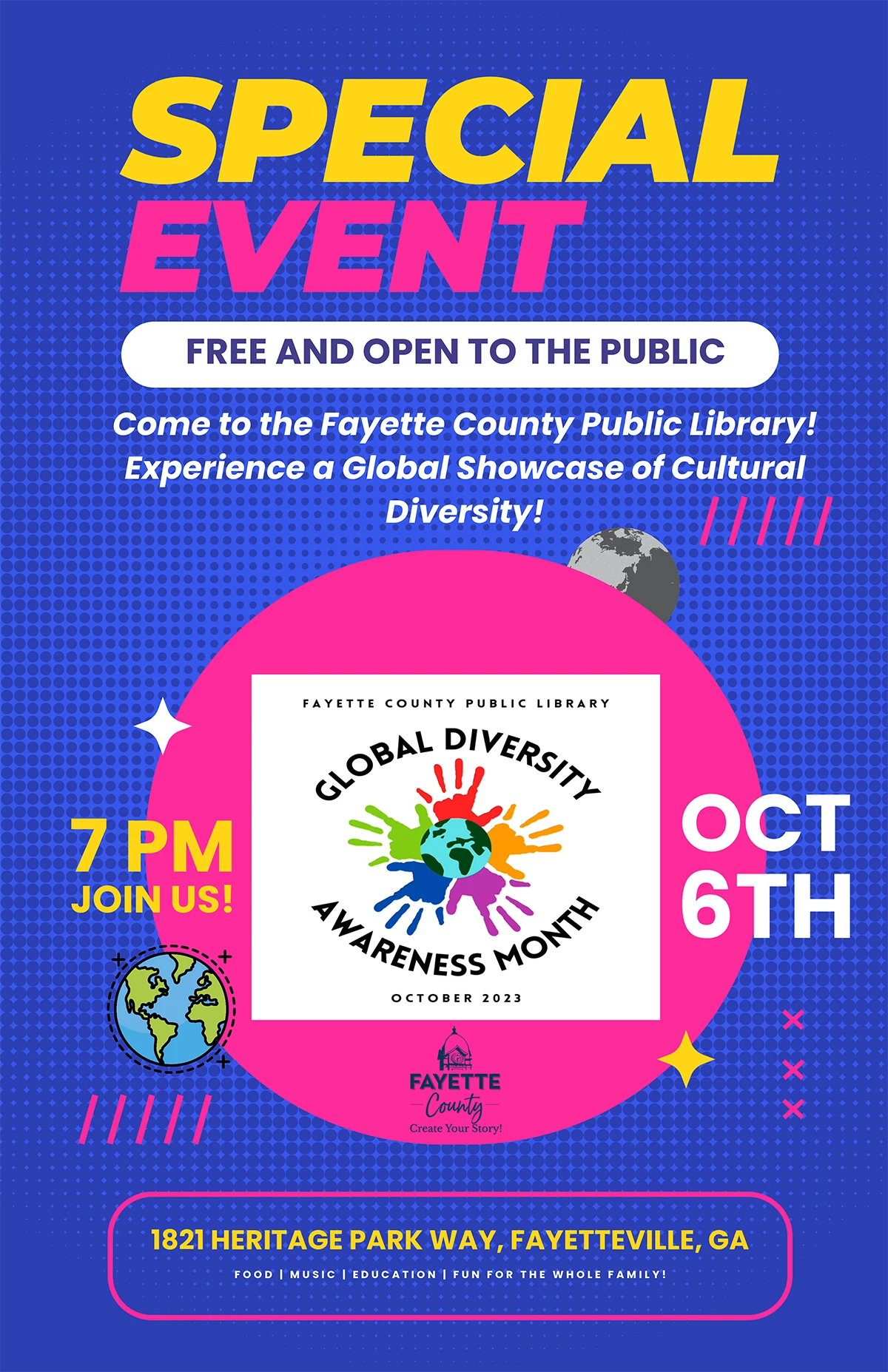 Wreaths Across America Mobile Education Exhibit Heads to Fayette County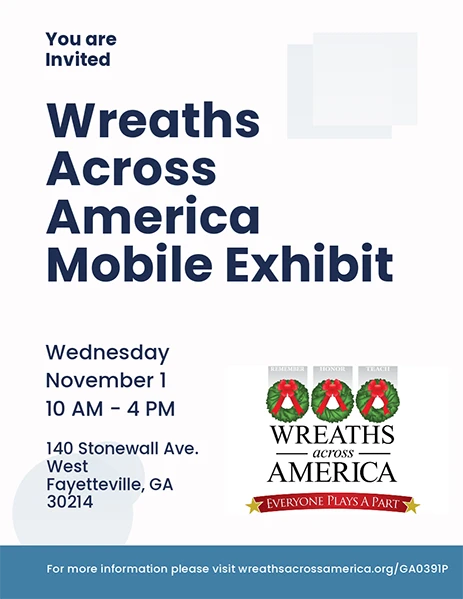 The public is invited to the Wreaths Across America Mobile Education Exhibit on Wednesday, November 1 from 10 am - 4 pm the location is 140 Stonewall Avenue West, Fayetteville, GA. The event is free and open to the public.
"The goal of the Wreaths Across America Mobile Education Exhibit is to bring the community together and teach patriotism while remembering the service and sacrifice of our nation's heroes," said Karen Worcester, Executive Director, Wreaths Across America. "However, we feel this exhibit has taken on even more meaning by providing something that is both educational and inspiring while supporting and giving back to the communities it visits."
The public tours for the MEE are free and open to the public, media members, dignitaries, veterans, and other interested groups who would like to come, ask questions, share stories and experience this one-of-a-kind exhibit. All veterans, active-duty military, their families, and the local community members are invited and encouraged to visit, take a tour and speak with WAA representatives and volunteers. They can also share more about the national nonprofit and its volunteers work to support our heroes and their communities year-round.
For more information, please visit https://www.wreathsacrossamerica.org/GA0391P
---
PUBLIC NOTICE
NOTICE OF PROPERTY TAX INCREASE
Fayette County has tentatively adopted a millage rate which will require an increase in property taxes by 9.23%.
All concerned citizens are invited to the public hearing on this tax increase to be held at Fayette County Administrative Complex Commission Chambers, 140 Stonewall Avenue West in Fayetteville on September 7, 2023 at 10:00 am and 6:00 pm.
Times and places of additional public hearings on this tax increase are at Fayette County Administrative Complex Commission Chambers, 140 Stonewall Avenue West, Fayetteville on September 14, 2023 at 5:00 pm.
This tentative increase will result in a millage rate of 4.034 mills, an increase of 0.341 mills. Without this tentative tax increase, the millage rate will be no more than 3.693 mills. The proposed tax increase for a home with a fair market value of $450,000 is approximately $59.68 and the proposed tax increase for nonhomestead property with a fair market value of $450,000 is approximately $61.38.
---
PUBLIC NOTICE
NOTICE OF PUBLIC MEETING TO SET 2023 MILLAGE RATES
The Fayette County Board of Commissioners does hereby announce that the 2023 millage rate will be set at a meeting to be held in the Public Meeting Room at the Fayette County Administrative Complex at 140 West Stonewall Avenue in Fayetteville on September 14, 2023 at 5:00 p.m. and pursuant to the requirements of O.C.G.A. Section 48-5-32 does hereby publish the following presentation of the current year's digest and levy, along with the history of the tax digest and levy for the past five years.
FAYETTE COUNTY 2023 TAX DIGEST AND 5 YEAR HISTORY OF LEVY
County Wide General Fund
Maintenance & Operations
2018
2019
2020
2021
2022
2023
REAL & PERSONAL
6,108,161,373
6,593,185,713
6,967,532,050
7,478,217,442
8,728,907,267
9,835,827,426
MOTOR VEHICLES
92,942,360
76,126,340
64,266,750
52,387,510
47,767,920
47,826,250
MOBILE HOMES
3,227,386
3,538,585
3,538,585
4,259,768
4,738,316
5,640,735
TIMBER - 100%
76,923
27,660
34,130
74,979
0
0
HEAVY DUTY EQUIPMENT
761,986
554,624
1,200,161
636,602
475,216
381,081
GROSS DIGEST
6,205,170,028
6,673,432,922
7,036,571,676
7,535,576,301
8,781,888,719
9,889,675,492
LESS: M&O EXEMPTIONS
303,500,830
322,357,777
363,856,942
413,568,077
414,248,597
494,896,385
NET M&O DIGEST
5,901,669,198
6,351,075,145
6,672,714,734
7,122,008,224
8,367,640,122
9,394,779,107
GROSS M&O MILLAGE
6.518
6.356
6.242
6.000
5.889
5.843
LESS: ROLLBACKS
2.126
1.964
1.965
1.966
1.855
1.809
NET M&O MILLAGE
4.392
4.392
4.277
4.034
4.034
4.034
NET TAXES LEVIED
25,920,131.12
27,893,922.04
28,539,200.92
28,730,181.18
33,755,060.25
37,898,538.92
NET TAX $ INCREASE
574,531.94
1,973,790.92
645,278.88
190,980.26
5,024,879.07
4,143,478.67
NET TAX % INCREASE
2.27%
7.61%
2.31%
0.67%
17.49%
12.28%
---
Notice of Relocation
August 4, 2023 Fayette County, GA – The Fayette County Board of Commissioners is pleased to announce the completion of the new Fayette County Board of Elections and Voter Registrations building located at 175 Johnson Avenue, Fayetteville, GA, 30214. The new location will be open for business on September 11, 2023 at 8 a.m..
The Fayette County Elections and Voter Registration Department will be fully operational at 140 Stonewall Ave. West, Suite 208, Fayetteville, GA, 30214 until September 8, 2023.
"Our new facility offers us the opportunity to better serve our voters," Brian Hill, Director of Elections and Registration, said. "We look forward to continuing to serve our county's election needs and work at our new location."
---
Secretary of State Brad Raffensperger announced the successful audit of Fayette County's election infrastructure
(Fayetteville, GA) – Secretary of State Brad Raffensperger announced the successful audit of Fayette County's election infrastructure, both software and hardware, in preparation for the 2023 municipal elections and 2024 Presidential elections. In coordination with the Fayette County election office, the Secretary of State's office recently conducted health checks of the voting system, finding that Fayette County's election infrastructure remains secure, unaltered, and fully functioning as Georgia heads into a major election cycle.
These health checks are in conjunction with Secretary Raffensperger's Four-Point Secure The Vote Plan for the 2024 election. That plan includes:
Testing before the election (Logic and Accuracy Testing)
Each and every piece of voting equipment, in all 159 counties, is tested to assure each contest is voting properly, by testing every candidate and ballot position on the Ballot Marking Devices, and that all scanners are reading ballots properly.
Testing during the election (Parallel Monitoring)
Live election equipment will be randomly selected and tested during the active voting period, every day of voting from the start of early voting through Election Day. This testing will detect any active, ongoing threat.
Voter review and accountability
Since 2020, Georgia voters have had the ability to review their own ballot for accuracy before turning it in for tabulation. In 2020, the University of Georgia conducted a study of Georgia's live elections and found that more than 80% of Georgia's voters review their ballots.
Testing after the election (Risk Limiting Audits)
With the passage of HB 316 and SB129, Georgia now has robust post-election audit procedures in place to detect any anomalies in the outcomes of elections.
These election equipment health checks are part of the greater election security initiative launched by the Secretary of State Raffensperger's office to administer the most secure elections in the Country. Georgia's election system consists of multiple layers of security, robust audit procedures, and thorough function and diagnostic testing prior to any election. The Secretary's top priority is election security, with 100% voter-verified paper-based elections, 100% photo ID, and a 100% commitment to accurate and trusted elections.
Additionally, the Secretary of State's office is partnering with the Department of Homeland Security and other federal agencies to ensure that all 159 county election offices are safe, secure, and held to the highest physical security standards possible.
---
Inman Road Project Completed
Fayette County, GA - The Fayette County Board of Commissioners conducted a ribbon cutting ceremony marking the completion of the 2017 SPLOST Category II Tier II project at Inman Road which is now open. The ceremony took place on July 27. The work consisted of demolishing existing double 96-inch corrugated metal pipes, each 37 linear feet, and replacing them with 56 LF double 8'X8' reinforced concrete box culverts.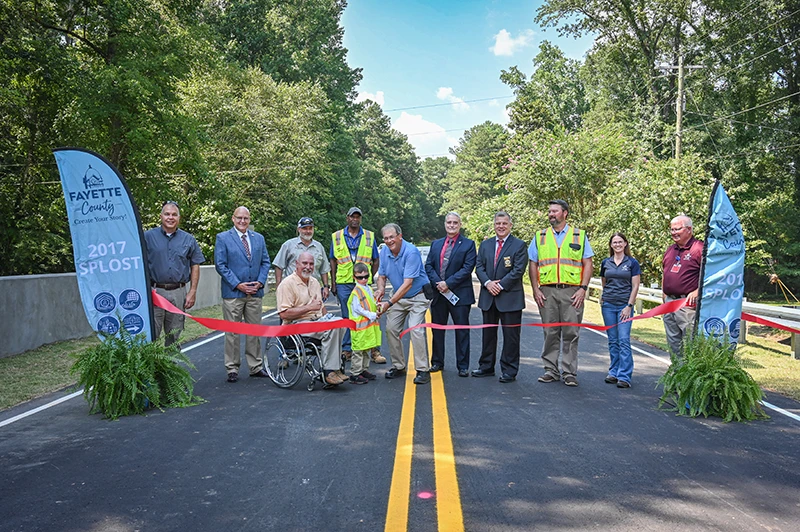 ---
Road closure, New Traffic Pattern along Ebenezer Church Road
Fayette County, GA - A short section of Ebenezer Church Road will be closed beginning Monday, July 31, through Wednesday, August 2 due to construction. The detour routes traffic along Lester Road, S.R. 54, and Ebenezer Road. Traffic signs will be placed to assist drivers. Access will be maintained to all properties during the road closure.
When the road reopens on August 2, traffic along Ebenezer Church Road will follow a new pattern. Please see the attached map for the new pattern. The construction, a 2017 SPLOST project, will improve safety at the intersections of Ebenezer Road, Spear Road, and Ebenezer Church Road.
For more information, please call 770-320-6010 or email SPLOST@fayettecountyga.gov
---
Inman Road Ribbon Cutting
Fayette County, GA - The Fayette County Board of Commissioners invite you to a ribbon cutting ceremony marking the completion of the 2017 SPLOST Category II Tier II project at Inman Road. The ceremony will take place on July 27 at 4 p.m. Those in attendance should plan enter Inman Road at Highway 92 or at the south side entrance of Inman Road. Guest will be able to park on Inman Road at the site.
The work completed consisted of demolishing the existing double 96-inch corrugated metal pipes, each 37 linear feet, and replacing them with 56 LF double 8'X8' reinforced concrete box culverts. North Georgia Concrete was the contractor responsible for the project. Inman Road will be open to public Friday, July 28 at 8 a.m.
---
Notice of Data Breach
July 21, 2023
Fayette County, GA – EMS Management and Consultants, Inc. ("EMS|MC") recently notified certain customers in Fayette County, of an incident that may have impacted the privacy of information related to certain patients. EMS|MC is a billing services provider for Fayette County Fire and Emergency Services. While EMS|MC is unaware of any actual or attempted misuse of information in relation to the incident, it is providing potentially affected individuals with information about the incident and steps individuals may take to help protect their information should they feel it is necessary to do so.
On May 31, 2023, and again in June 2023, Progress Software Corp. publicly disclosed zero-day vulnerabilities that impacted the MOVEit Transfer tool. Our billing services provider, EMS Management and Consultants Inc. ("EMS|MC"), is a user of that tool. EMS|MC moved quickly to apply available patching and undertook recommended mitigation steps. EMS|MC promptly launched an investigation, with the assistance of third-party cybersecurity specialists, to determine the potential impact of the vulnerabilities' presence on the MOVEit Transfer server on the security of data housed on the server. EMS|MC's investigation determined that an unknown actor exploited vulnerabilities, accessed the MOVEit Transfer server on May 30, 2023, and took certain data from the MOVEit Transfer server during that time. EMS|MC subsequently undertook a time-consuming and detailed review of the data stored on the server at the time of this incident to understand the contents of that data and to whom that data relates. . . . Read More
---
ARC Launches Survey to Gather Input for Long-Range Transportation Plan Update
The Atlanta Regional Commission (ARC) has launched an online survey to gather input for a major update to the Metropolitan Transportation Plan (MTP), the region's long-term blueprint that guides transportation investments and envisions a better future.
The survey asks respondents their views on a wide range of topics that are key to long-range planning, including transportation, housing, technology, and the environment. Questions include:
How should we prioritize transportation investments?
What are the biggest issues facing metro Atlanta today?
What are the best long-term solutions to our traffic challenges?
How can local governments provide more affordable housing?
"This plan update comes during a period of strong regional growth and breathtaking change, as technology advances, our climate changes, and federal priorities shift. It's imperative that we develop a forward-thinking plan that meets the needs of our diverse communities," said Anna Roach, Executive Director & CEO at ARC.
The survey is part of a robust public participation process to support the MTP update that includes partnership with local governments, focus groups and public meetings, and a public comment period. The plan is expected to be adopted in early 2024.
For more information about the Metropolitan Transportation Plan and take the survey, visit atlantaregional.org/mtpupdate
---
Bergen Sworn In by Governor Kemp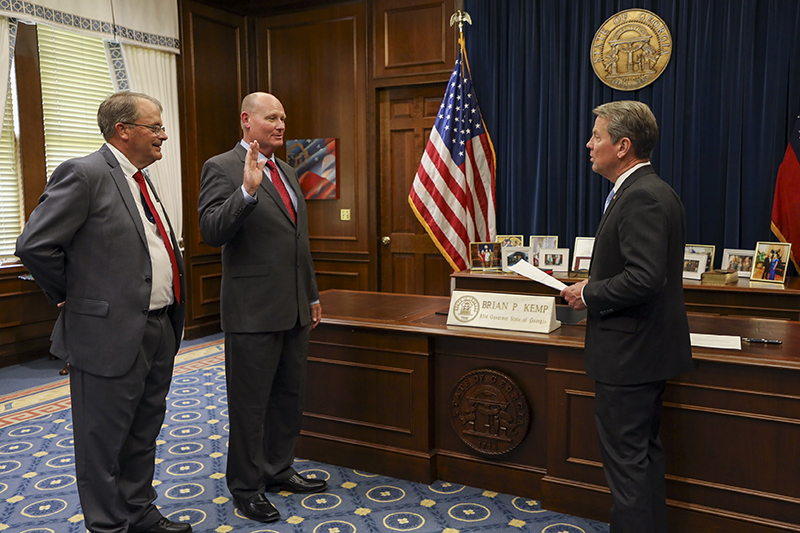 Matt Bergen, Environmental Management Project Manager, was sworn in by Governor Kemp as the statewide member of the Georgia Underground Facility Protection Act Advisory Committee. The ceremony took place June 28 in the Governor's Ceremonial Office in the State Capital.
The committee assists the Georgia Public Service Commission when a violator disputes the ruling of the Public Service commissioners. The violation information and associated documentation is submitted to the Georgia Underground Facility Protection Act Advisory Committee for review. The committee reviews the violation and makes recommendations to the Commission as to the appropriate penalties to impose on the violator.
Bergen said the appointment came after many years of collaboration with others.
"It's an honor because Fayette County is represented at the State level on behalf of the other counties. I'm the one that got to stand there but there's an army of people who help me be effective in what I do. Without the multiple departments and utilities surrounding me internally and externally, I couldn't' do what I do. My goal was always to make sure all entities were treated fairly in the process," he said. "Matt's knowledge, understanding, and contacts throughout the utility industry has benefited the citizens of Fayette County over many years through avoided outages, expedited project delivery, improved safety, and cost savings. With this appointment he can now use these same skills to benefit utility expansion, transportation, and related projects across the state. I'm thankful and proud to have Matt on our team," said Phil Mallon, Fayette County Engineer and Public Works Director.
---
FY2024 Budget Approved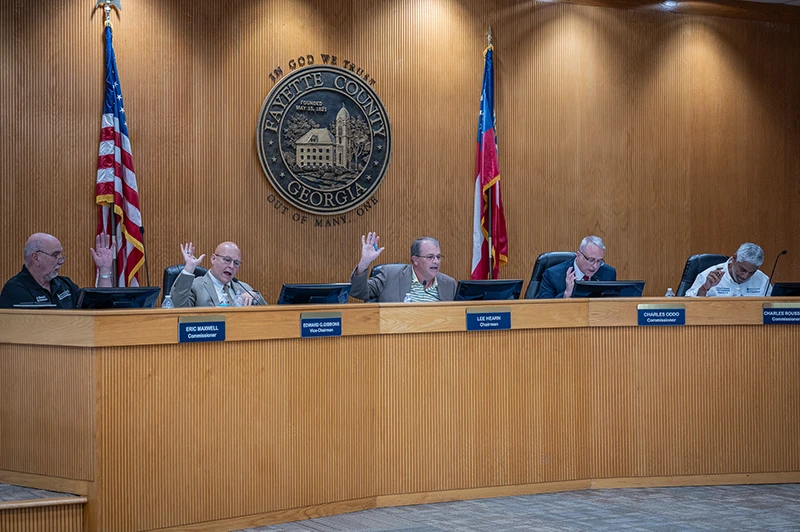 The Fayette County Board of Commissioners unanimously approved the 2024 budget during the final of two public hearings held on June 22.
"The Board of Commissioners' support and the staff's work and vision helped us present a budget that citizens can be proud of," Fayette County Administrator Steve Rapson said.
"I'm thankful for the partnership of constitutional officers and efforts of the departments to bring all parts of the budget together," Sheryl Weinmann, Chief Financial Officer said.
---
Fayette County Library to host Multigenerational Reading Challenge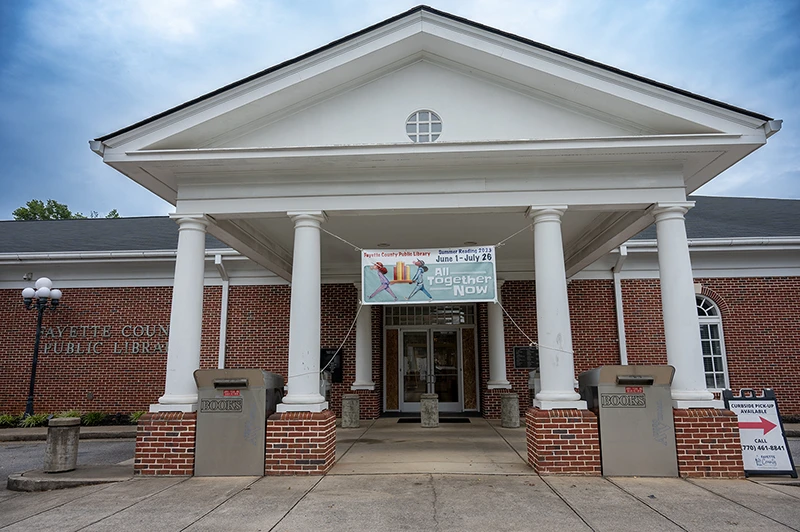 Fayette County, GA - Readers of all ages are invited to sign up for this summer's reading challenge. Anchored in the theme "All Together Now," the library is encouraging people from all walks of life to find joy in reading.
"Summer reading is a great way for families to bond and develop a love of reading and learning," Fayette County Library Director Michelle Bennett-Copeland said. "During summer reading, children have access to experiences that further their sense of discovery. Adults can learn new skills and form relationships that enhance their lives, too," she said.
Read the Full Press Release here.
---
FAYETTE COUNTY ANNOUNCES ROUNDABOUT CONSTRUCTION
Fayette County, G.A. – Fayette County started the construction phase of the roundabout project at the intersection of Redwine Road, Bernhard Road, and Peachtree Parkway.
The intersection, currently an all‐way stop, will be a single lane roundabout with multi-use paths along all approaches to the intersection. Each approach will have a pedestrian/golf cart crossing. The purpose of the project is to improve safety and traffic flow for vehicles, pedestrians, bicyclists, and golf carts.
The initial phase of construction includes clearing and utility relocations. This work is underway and will continue through May 29, 2023. Periodic lane closures may be necessary, but no major traffic delays are expected during this phase.
Physical construction of the roundabout and multi-use path system will begin on or after May 30, 2023, and will continue through early 2024. No full road closures are anticipated during construction of the roundabout; however, travel delays and occasional, temporary lane closures should be expected when traveling through the work zone. Motorists are asked to exercise caution, reduce speed, and allow for additional travel time for trips in the area. Temporary traffic control signs will be in place advising drivers of construction work, traffic shifts or restrictions.
This project, along with the adjacent path project currently under construction along Redwine Road, are funded by the 2017 SPLOST.
For additional information, please contact Fayette County at 770-320-6010 or SPLOST@fayettecountyga.gov.
---
Water System Announces Successful Sanitary Survey Inspection and Lab re-certification
Fayette County, GA – "No significant deficiencies were noted during the inspection". These are the findings of the once-every-three-years Sanitary Survey of the Fayette County Water System received last October. The survey is a thorough inspection of all source water, treatment process, storage, and distribution system records and equipment. Verification of proper licensing for Water Treatment Plant Operators, Lab Analysts, Maintenance Technicians, and Distribution Operators is included in the review process. Water quality standards set forth by the federal Safe Drinking Water Act as well as the State of Georgia Rules for Safe Drinking Water are the metrics for a successful survey.
The Fayette County Water System's Water Quality Lab was re-certified by the Georgia Environmental Protection Division (GA EPD) for microbiological analysis following an audit conducted on April 11. The audit included inspection of the lab's quality control manual and standard operating procedures, quality control data, compliance records, and proficiency testing records in addition to continuing education records, including laboratory ethics training records.
"These high marks are a testament to water system staff's continued commitment to the producing the highest quality drinking water for our customers," said Vanessa Tigert, Director, Fayette County Water System.
To read the latest Fayette County Water System's Consumer Confidence Report, please visit: https://fayettecountyga.gov/water/AQReports/2022-Annual-Water-Quality-Report.pdf
---
Property Tax Relief Grant Refund
Fayette County, GA - In the next few weeks, Fayette County property owners will be receiving assessment notices reflecting the value placed on their properties for ad valorem tax purposes. What will not be shown on these notices is a property tax credit of approximately $500 on homesteaded properties.
Georgia Governor Brian Kemp signed into law on March 13, 2023 a one-time Property Tax Relief Grant to refund $950 million in property tax credits back to homestead owners. This will be accomplished by reducing the assessed value of Georgia homesteads by $18,000. The actual amount of the tax credit is determined by applying the county's millage rate to the $18,000 reduction in assessed value.
---