NEWS & EVENTS
BERNHARD ROAD OPEN, PEACHTREE PARKWAY CLOSED FOR TWO WEEKS
Fayette County, Georgia – November 27, 2023.Bernhard Road was opened to traffic at 2 p.m. Peachtree Parkway is now closed for the next two weeks as scheduled. The intersection approaches are stop controlled. Intermittent lane closures will be required on Redwine Road to complete asphalt and curbing work. We will work to minimize the inconvenience. Thank you for your continued patience during this process.
---
Goza Road and Old Greenville Road Intersection
All-Way Stop Conversion
Fayette County, Georgia – November 20, 2023. To reduce the risk of crashes, the intersection of Goza Road and Old Greenville Road will be converted to an all-way stop-controlled intersection on Thursday, November 30, 2023.
This intersection will be changing from the existing two-way stop-controlled intersection on Old Greenville Road to an all-way four stop-controlled intersection based on the increasing number and frequency of crashes.
Drivers are reminded that they are required to come to a full and complete stop at intersections with stop signs.
Please contact Fayette County at 770-320-6011 or publicworks@fayettecountyga.gov for additional information.
---
REDWINE ROAD CLOSURE EXTENDED
Fayette County, GA - November 16, 2023 - The road closure scheduled for intersection of Redwine Road, Bernhard Road is extended to November 21. Unsuitable materials encountered on the project and the rain are the reason for the extension. The intersection is scheduled to be open by the end of the day on November 21.
Phase 2 schedule is unaffected and will begin November 27 and will last up to 14 days. During this phase there will be no thru traffic on South Peachtree Parkway.
The intersection should be open to traffic (no detours) during the Thanksgiving holiday week November 22– November 24.
---
FAYETTE COUNTY TO OBSERVE OPERATION GREEN LIGHT
Fayette County, GA – October 31, 2023 Fayette County government facilities will observe "Operation Green Light" Nov. 1 – 13, 2023. Operation Green Light honors veterans for their military service by illuminating buildings, including the downtown courthouse, with green lights.
Official dates for Operation Green Light are Nov. 6-12, coinciding with Veterans Day, which is recognized on Nov. 11 every year.
During a proclamation at the Board of Commissioner's Meeting, Fayette County declared November 1- 13 a time to salute and honor the service and sacrifice of our men and women in uniform transitioning from active service.
Fayette County encourages its citizens in patriotic tradition to recognize the importance of honoring all those who made immeasurable sacrifices to preserve freedom by displaying a green light in a window of their place of business and/or home.
---
FAYETTE COUNTY COMMISSIONER, DIRECTORS RECOGNIZED FOR ACADEMIC ACHIEVEMENT IN LIFELONG LEARNING ACADEMY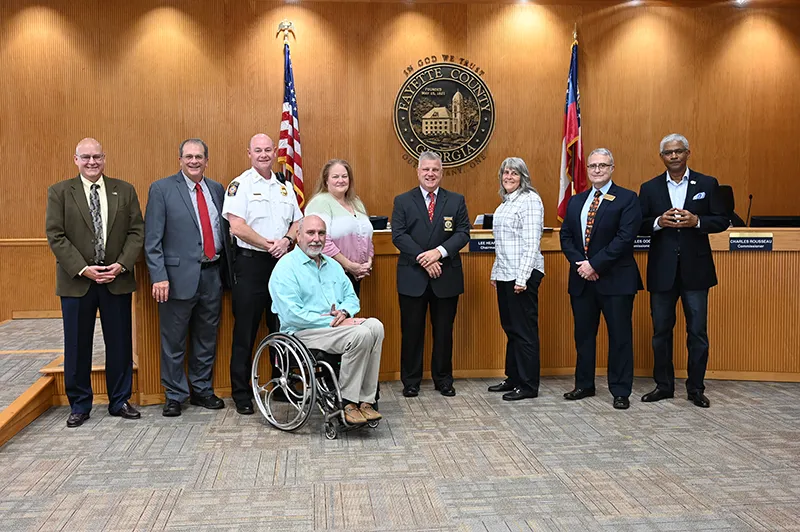 Fayette County, GA – October 27, 2023 The Association County Commissioners of Georgia (ACCG or Georgia's Counties) awarded Fayette County officials with certificates for completing requirements in the ACCG Lifelong Learning Academy. Recipients were presented with their achievement certificates during the 2023 ACCG Legislative Leadership Conference at the Jekyll Island Convention Center in Glynn County. Commissioner Charles Oddo was honored for successfully completing the Intergovernmental Relations specialty track requirements in the Lifelong Learning Academy. Anita Godbee, Parks and Recreation Director, completed the Quality of Life/Social Issues track. Jeff Hill, Fire Chief and Katye Vogt, 911 Director, completed the Public Safety track.
"I am pleased to have accomplished another level in the continuing education provided by the Association of County Commissioners of GA. ACCG programs provide a source of real-life, professional experience that participants can draw on to better their own public service skills. Since being elected, I have been proud to be a proponent of continuing education not only for our Commissioners, but for our staff as well. The insight we all gain from participating translates into better service to our Community, which in the final analysis is our purpose for what we do," Commissioner Oddo said.
ACCG and the Carl Vinson Institute of Government at the University of Georgia have collaborated for more than two decades to provide county officials with supplemental training and educational tools in the Lifelong Learning Academy. With abundant courses from which they may choose, every county official has a tailor-made learning experience that allows them to excel in specific areas of expertise.
"The Lifelong Learning Academy is critical to educating county officials about the challenges they may encounter in public service," said Dave Wills, ACCG Executive Director. "County leaders who prioritize furthering their education are better equipped to address those challenges and are assets to their communities. I commend Oddo for his unwavering dedication to understanding his community."
The Lifelong Learning Academy was created with input from county commissioners who identified courses based on the issues and decision-making challenges regularly faced by county officials. To ensure the course requirements and curriculum remain relevant and engaging, the ACCG Lifelong Learning Committee – comprised of county commissioners and staff from both ACCG and the Carl Vinson Institute of Government at the University of Georgia – meet regularly to review and adjust accordingly. Through this collaborative approach, the Lifelong Learning Academy has been successful in equipping county officials with the necessary skills to meet the needs of their constituents.
---
Fayette County Animal Shelter wins Friends Animal Society Award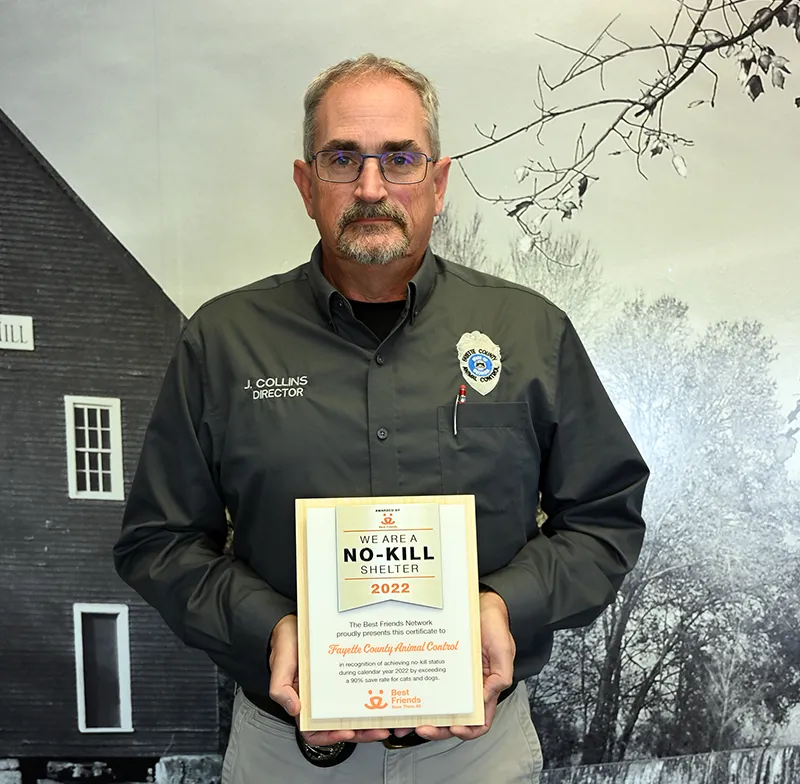 Fayette County, GA – The Fayette County Animal Shelter was awarded the "We are a NO-KILL Shelter" award from the Best Friends Animal Society in recognition of achieving a 90% save rate or more of the animals in the shelter. To be considered "No Kill," a shelter or rescue must have a live release rate of 90%.
"We have been "No Kill" by definition since 2018. Fayette County Animal Control maintains a 96-98% live release rate annually," Jerry Collins, Director, said.
"Fayette County has a small shelter compared to other organizations surrounding us. Our current shelter has space for 26 dogs and 40 cats. Keeping the high-live release rate has been a community achievement, thanks to the many rescues, volunteers, and the hard-working staff at Animal Control," he said.
"Staff has been very creative in utilizing the space available and working within the policies and procedures set forth to keep animals safe and in a clean environment. Since 2018 the Fayette County Board of Commissioners and Administration have been strong supporters of Animal Control with increased funding in key areas such as medical and cleaning supplies. They even set up a special fund to pay for spay and neuters of any animal that leaves the shelter so that any animal adopted from our shelter is already spayed or neutered. They also have funded the building of a new shelter which should be complete in early 2024," Collins said.
"I know that this success would not have happened without all the hard work of all involved. I often say it takes a village to achieve great things. From where I stand, the village is strong and successful," he said.
Best Friends Animal Society is a leading animal welfare organization founded in 1984. They work to end the killing of dogs and cats in America's shelters by 2025.
---
Road Closures Scheduled for Intersection of Redwine Road, Bernhard Road, and South Peachtree Parkway
October 19, 2023 - Beginning Monday November 6, 2023, portions of the Redwine Road, Bernhard Road and South Peachtree Parkway intersection will be closed to thru traffic. Road closures are required due to the amount of grading and storm pipe installation needed for construction of a roundabout. Depending on the travel direction, drivers may have to follow a detour around the closed segment(s). The detour period is expected to last approximately four weeks, weather permitting. To minimize traffic impacts, the closures are planned in two phases, each having its own detour.
Phase 1 is scheduled to begin on November 6, 2023. During this stage Bernhard Road and the southern leg of Redwine Road will be closed to all traffic. The other approaches to the intersection (Redwine Road north and S. Peachtree Parkway) will remain open. The posted detour around the closed segment of Bernhard Road is approximately 8.5 miles and follows SR 85, Harp Road, and Redwine Road. The posted detour around the closed segment of Redwine Road is approximately 3.5 miles and follows South Peachtree Parkway, Robinson Road, and Redwine Road. Please see the attached Phase 1 Detour map. Phase 1 has an expected duration of 14 days.

Phase 2 is scheduled to begin November 27, 2023. For Phase 2, approximately 500 feet of South Peachtree Parkway will be closed to all traffic. The other approaches to the intersection (Redwine Road north, Redwine Road south, and Bernhard Road) will remain open to traffic, although there may be intermittent lane closures which may cause delays. The posted detour around the closed segment of South Peachtree Parkway is approximately 3.5 miles and follows Robinson Road and Redwine Road. Please see the attached Phase 2 Detour map. Phase 2 has an expected duration of 14 days.
If the work proceeds as planned, all legs of the intersection will be open (no detours) during the week of Thanksgiving.
Access will be maintained to all properties during the detour period, including One Church, located at the southeast corner of Redwine Road and Bernhard Road. In addition, the contractor plans to maintain passage for pedestrians and golf carts using temporary gravel paths.
Once complete, the roundabout and new path crossings will reduce traffic delay and improve safety. During construction the road closures and associated detours will be impactful to drivers and neighboring communities. Please allow extra time when driving through the area and use caution to help protect the workers, pedestrians, golf carts, bicyclists, and other drivers. The school system is aware of the pending detours and is making plans for their buses. We are working closely with the contractor to provide current and accurate information to the public and will issue updates as appropriate. For questions, please contact Fayette County Public Works at 770-320-6010 or publicworks@fayettecountyga.gov.
This project (17TAL) is funded with Fayette County's 2017 Special Purpose Local Option Sales Tax (SPLOST) program. Please visit the SPLOST website at https://fayettecountyga.gov/splost-2017/ for more information.
---
ANNUAL EVALUATION 2015 PRE-DISASTER HAZARD MITIGATION PLAN
Projects listed in the current Pre-disaster Hazard Mitigation Plan were recently reviewed. This plan was approved by all county jurisdictions in 2015 and reviewed and updated again on June 28, 2019 to apply for and receive mitigation grant funding through FEMA to bring Margaret Phillips Lake Dam, a Category 1 dam, into compliance with Georgia Safe Dam Standards rather than breach the dam as originally proposed in the 2015 Hazard Mitigation Plan.
Review shows significant progress made over the past year of implementing and completing the projects listed in the plan.
Status
All action steps in the unincorporated county were reviewed. The following action steps were modified to reflect current conditions.
West McIntosh Road Bridge Replacement – Completed 2018
Emerald Lake Dam – Completed August 2018
Antebellum Way – Completed February 2019
Rising Star Road – Completed September 2018
Silver Leaf Drive – Completed April 2022
Lawson Lane – Completed 2016
Oak Street – Completed June 2019
Morning Dove Drive – Completed March 2020
Dogwood Trail – Completed August 2020
Darren Drive – Design Phase
Callaway Road – Design Phase
Camp Creek at Redwine – Not Complete
Roberts Road – Not Complete
A copy of this plan is available here.
Summary
Fayette County participates in the FEMA National Flood Insurance Program Community Rating System Program. Our current rating of "6" is based on Fayette County receiving credits for conducting activities and programs that go above and beyond minimum program requirements. This annual plan review contributes to this rating. This rating allows residents to receive a 20 percent discount on flood insurance premiums.
---
Heritage Way Roadwork
Fayette County Georgia – Heritage Way will be reduced to single lane traffic between 150 Heritage Way and 170 Heritage Way beginning October 16, 2023 and will be reopen for two lane traffic on or about November 03, 2023, weather permitting. The work will consist of replacing a 54-inch and a 24-inch corrugated metal pipe system below Heritage Way with 54-inch and 24-inch reinforced concrete pipes (RCP). All Work shall be performed within the existing 50-ft County -owned Right-of-Way. This is a 2017 SPLOST Category II, Tier II project. For questions or comments, please email SPLOST@fayettecountyga.gov or call 770-305-5410.
You may also visit the SPLOST website https://fayettecountyga.gov/splost-2017/ for specific project information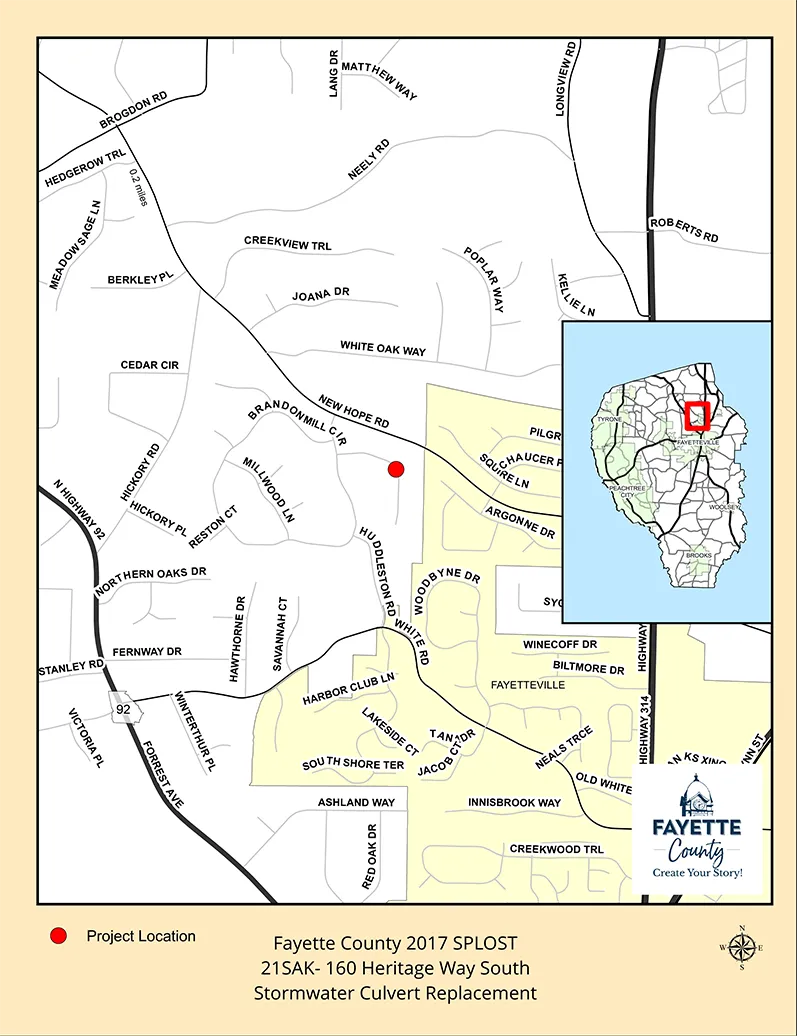 ---
FAYETTE COUNTY ANNOUNCES ROAD WIDENING
Fayette County, October 2, 2023- A project to widen SR 85 from 4 to 6 lanes was awarded to CW Mathews Contracting Co. by the Georgia Department of Transportation (GDOT). The project started on August 1 and will conclude in the Summer of 2026. The purpose is to make improvements along SR 85 from SR 279 to Roberts Drive.
The 0.75-mile segment south of Pointe South Parkway consists of changing from a ditch section to a curb and gutter with sidewalks. The project will also reconstruct both the northbound and southbound bridges on SR 85 over Camp Creek.
The estimated construction cost is $53,000,000. The total length of the project is 3.9 miles. The speed limit for the project will be 45 mph.
For more information, please visit https://www.dot.ga.gov/applications/geopi/Pages/Search.aspx# and enter project ID #721290. You may also contact the Fayette County Public Works Department at 770-320-6010 or publicworks@fayettecountyga.gov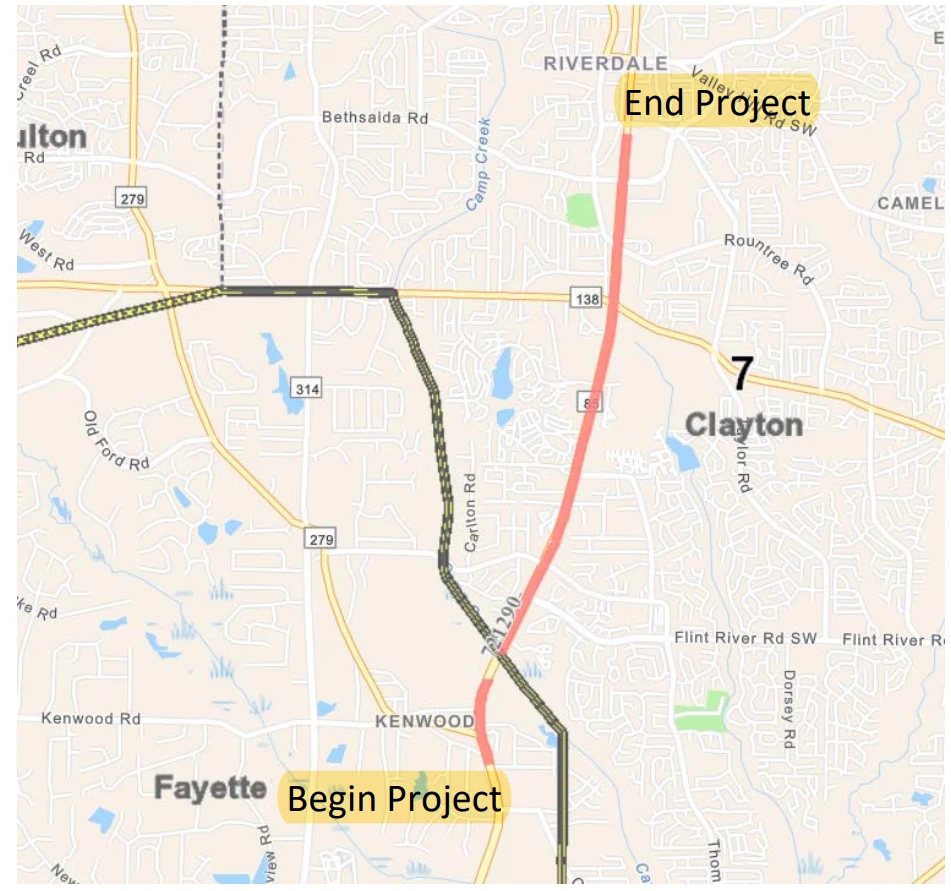 ---
Wreaths Across America Mobile Education Exhibit Heads to Fayette County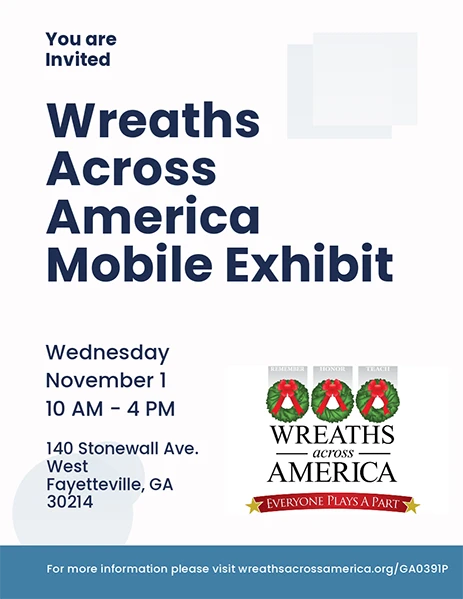 The public is invited to the Wreaths Across America Mobile Education Exhibit on Wednesday, November 1 from 10 am - 4 pm the location is 140 Stonewall Avenue West, Fayetteville, GA. The event is free and open to the public.
"The goal of the Wreaths Across America Mobile Education Exhibit is to bring the community together and teach patriotism while remembering the service and sacrifice of our nation's heroes," said Karen Worcester, Executive Director, Wreaths Across America. "However, we feel this exhibit has taken on even more meaning by providing something that is both educational and inspiring while supporting and giving back to the communities it visits."
The public tours for the MEE are free and open to the public, media members, dignitaries, veterans, and other interested groups who would like to come, ask questions, share stories and experience this one-of-a-kind exhibit. All veterans, active-duty military, their families, and the local community members are invited and encouraged to visit, take a tour and speak with WAA representatives and volunteers. They can also share more about the national nonprofit and its volunteers work to support our heroes and their communities year-round.
For more information, please visit https://www.wreathsacrossamerica.org/GA0391P
---
Notice of Relocation
August 4, 2023 Fayette County, GA – The Fayette County Board of Commissioners is pleased to announce the completion of the new Fayette County Board of Elections and Voter Registrations building located at 175 Johnson Avenue, Fayetteville, GA, 30214. The new location will be open for business on September 11, 2023 at 8 a.m..
The Fayette County Elections and Voter Registration Department will be fully operational at 140 Stonewall Ave. West, Suite 208, Fayetteville, GA, 30214 until September 8, 2023.
"Our new facility offers us the opportunity to better serve our voters," Brian Hill, Director of Elections and Registration, said. "We look forward to continuing to serve our county's election needs and work at our new location."
---
Secretary of State Brad Raffensperger announced the successful audit of Fayette County's election infrastructure
(Fayetteville, GA) – Secretary of State Brad Raffensperger announced the successful audit of Fayette County's election infrastructure, both software and hardware, in preparation for the 2023 municipal elections and 2024 Presidential elections. In coordination with the Fayette County election office, the Secretary of State's office recently conducted health checks of the voting system, finding that Fayette County's election infrastructure remains secure, unaltered, and fully functioning as Georgia heads into a major election cycle.
These health checks are in conjunction with Secretary Raffensperger's Four-Point Secure The Vote Plan for the 2024 election. That plan includes:
Testing before the election (Logic and Accuracy Testing)
Each and every piece of voting equipment, in all 159 counties, is tested to assure each contest is voting properly, by testing every candidate and ballot position on the Ballot Marking Devices, and that all scanners are reading ballots properly.
Testing during the election (Parallel Monitoring)
Live election equipment will be randomly selected and tested during the active voting period, every day of voting from the start of early voting through Election Day. This testing will detect any active, ongoing threat.
Voter review and accountability
Since 2020, Georgia voters have had the ability to review their own ballot for accuracy before turning it in for tabulation. In 2020, the University of Georgia conducted a study of Georgia's live elections and found that more than 80% of Georgia's voters review their ballots.
Testing after the election (Risk Limiting Audits)
With the passage of HB 316 and SB129, Georgia now has robust post-election audit procedures in place to detect any anomalies in the outcomes of elections.
These election equipment health checks are part of the greater election security initiative launched by the Secretary of State Raffensperger's office to administer the most secure elections in the Country. Georgia's election system consists of multiple layers of security, robust audit procedures, and thorough function and diagnostic testing prior to any election. The Secretary's top priority is election security, with 100% voter-verified paper-based elections, 100% photo ID, and a 100% commitment to accurate and trusted elections.
Additionally, the Secretary of State's office is partnering with the Department of Homeland Security and other federal agencies to ensure that all 159 county election offices are safe, secure, and held to the highest physical security standards possible.
---
FAYETTE COUNTY ANNOUNCES ROUNDABOUT CONSTRUCTION
Fayette County, G.A. – Fayette County started the construction phase of the roundabout project at the intersection of Redwine Road, Bernhard Road, and Peachtree Parkway.
The intersection, currently an all‐way stop, will be a single lane roundabout with multi-use paths along all approaches to the intersection. Each approach will have a pedestrian/golf cart crossing. The purpose of the project is to improve safety and traffic flow for vehicles, pedestrians, bicyclists, and golf carts.
The initial phase of construction includes clearing and utility relocations. This work is underway and will continue through May 29, 2023. Periodic lane closures may be necessary, but no major traffic delays are expected during this phase.
Physical construction of the roundabout and multi-use path system will begin on or after May 30, 2023, and will continue through early 2024. No full road closures are anticipated during construction of the roundabout; however, travel delays and occasional, temporary lane closures should be expected when traveling through the work zone. Motorists are asked to exercise caution, reduce speed, and allow for additional travel time for trips in the area. Temporary traffic control signs will be in place advising drivers of construction work, traffic shifts or restrictions.
This project, along with the adjacent path project currently under construction along Redwine Road, are funded by the 2017 SPLOST.
For additional information, please contact Fayette County at 770-320-6010 or SPLOST@fayettecountyga.gov.
---
Water System Announces Successful Sanitary Survey Inspection and Lab re-certification
Fayette County, GA – "No significant deficiencies were noted during the inspection". These are the findings of the once-every-three-years Sanitary Survey of the Fayette County Water System received last October. The survey is a thorough inspection of all source water, treatment process, storage, and distribution system records and equipment. Verification of proper licensing for Water Treatment Plant Operators, Lab Analysts, Maintenance Technicians, and Distribution Operators is included in the review process. Water quality standards set forth by the federal Safe Drinking Water Act as well as the State of Georgia Rules for Safe Drinking Water are the metrics for a successful survey.
The Fayette County Water System's Water Quality Lab was re-certified by the Georgia Environmental Protection Division (GA EPD) for microbiological analysis following an audit conducted on April 11. The audit included inspection of the lab's quality control manual and standard operating procedures, quality control data, compliance records, and proficiency testing records in addition to continuing education records, including laboratory ethics training records.
"These high marks are a testament to water system staff's continued commitment to the producing the highest quality drinking water for our customers," said Vanessa Tigert, Director, Fayette County Water System.
To read the latest Fayette County Water System's Consumer Confidence Report, please visit: https://fayettecountyga.gov/water/AQReports/2022-Annual-Water-Quality-Report.pdf
---
Property Tax Relief Grant Refund
Fayette County, GA - In the next few weeks, Fayette County property owners will be receiving assessment notices reflecting the value placed on their properties for ad valorem tax purposes. What will not be shown on these notices is a property tax credit of approximately $500 on homesteaded properties.
Georgia Governor Brian Kemp signed into law on March 13, 2023 a one-time Property Tax Relief Grant to refund $950 million in property tax credits back to homestead owners. This will be accomplished by reducing the assessed value of Georgia homesteads by $18,000. The actual amount of the tax credit is determined by applying the county's millage rate to the $18,000 reduction in assessed value.
---