Meet the Administration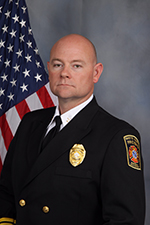 Fire Chief Jeff Hill
Chief Hill began as a volunteer firefighter with the department in 1994 and was hired as a career firefighter/EMT in March of 1995. In addition to serving as a Firefighter and Station Officer, Chief Hill has served as a Captain, a Commander, and as a Battalion Chief in charge of the operations of a designated shift.
Chief Hill is certified through the National Professional Qualifications System as a Fire Instructor, Fire Inspector, and Fire Officer 4, and is recognized as a Certified Georgia Fire Chief from the Georgia Association of Fire Chiefs. He is a graduate of the National Fire Academy's Executive Fire Officer Program and is recognized as a Chief Fire Officer by the Commission on Professional Credentialing. He is also a graduate of the Georgia Association of Chiefs of Police's Law Enforcement Command College. He is licensed as a Paramedic through the State of Georgia and Nationally Registry of EMTs, and a Certified Emergency Manager through GEMA. He earned an Associate Degree in Paramedic Technology from Clayton State College, a Bachelor's Degree in Business Management from Georgia Southern University, and a Master's Degree in Public Administration from Columbus State University.
Chief Hill resides in the Senoia area with his wife, Holly, and three sons, Aiden, Noah, and Treavor.
---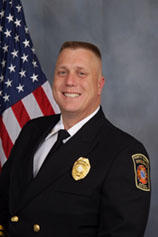 Division Chief Steven Folden
Division Chief Steven Folden joined Fayette County Fire and Emergency Services in 1985 as a volunteer while still in High School. In 1987, he was hired on as a paid Firefighter/EMT, working  first as Firefighter/Paramedic, a station Lieutenant than as a Captain/EMS Educator in the training division. He now serves as the Division Chief of Administrative Services. His primary responsibilities include Fire and EMS training, EMS billing, policy and protocol development, infection control, HIPPA compliance, and departmental quality assurance. He also serves as the EMS director and acts as liaison with other departments and services. Division Chief Folden sits on many local, state and national boards for Emergency Medical Services, and has an Associate's Degree in Paramedic Technology and a Bachelor's degree in Fire Science. Division Chief Folden's career with Fayette County has covered more than 28 years.
---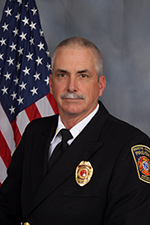 Division Chief Michael Pollard
Division Chief Michael Pollard joined the department as a volunteer in 1981. He was hired in July 1983 as firefighter/EMT. Chief Pollard was promoted to Lieutenant 1984 and then to Captain in 1988. Chief Pollard work as a Station Officer until 2001 when he was assigned to the Fire Marshal's Office as an Inspector/Investigator. In 2013 Chief Pollard was assigned as a Captain in the Logistics Section. He serves as the Division Chief of Community Affairs. His responsibility includes managing the Fire Marshal's Office and the Logistic Section. He has an Associate's Degree, is a Nationally Registered Paramedic.