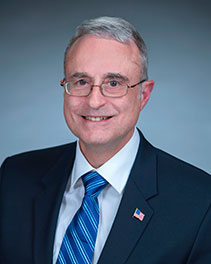 Charles Oddo was elected to the Fayette County Board of Commissioners in November 2012. After serving as Vice Chairman for two years, Charles was chosen as Chairman by his fellow commissioners during the first official board meeting in January 2015 and devotedly served in that capacity until December 31, 2016. In November of 2016 he was re-elected to serve a term as District 5 (At-Large) Commissioner from January 1, 2017, through December 31, 2020.
Charles is a native of New York, but spent much of his early youth in Minnesota. Early on he learned the value of hard work. After school each day, Charles would walk the few blocks to the family business where he would do chores from sweeping the floors, to helping his dad pack books to ship, to being a courier between office and home where his mom was "stationed."
On Father's Day in 1970, the Oddo Family moved lock, stock, and barrel to Fayette County, population barely 11,000. Charles graduated as his class valedictorian from Fayette County High School, the only county high school at that time, and was subsequently nominated an alternate to the Naval Academy by Senator Sam Nunn. Ultimately his college career took a different path, as he attended and received his BBA Cum Laude from Georgia State University. At GSU, Charles became involved in several organizations, including Blue Key Honor Fraternity (President and Vice President), a service organization for honor students, Pi Sigma Epsilon (Secretary), a professional marketing fraternity, and Golden Key Honor Fraternity. ;He also received various honors and awards for achievement during his GSU career.
Throughout his high school and college years, Charles worked in the family business, learning all aspects and eventually overseeing the marketing department. Upon graduation from GSU, Charles accepted a position with NCR Systemedia in Atlanta, gaining valuable communication insight from a different perspective. However, his heart was in the family businesses. Soon he returned, and along with his family simultaneously managed Oddo Publishing, Oddo Brothers CPAs, raised cattle, cultivated Christmas trees, and in 1995, opened GTO's Fabulous 50's Drive-in Restaurant. It was while managing GTO's that Charles met his future wife, Pily, a wonderful story in itself.
Out of a desire to give back to the County from which he has received much, and at the urging of Pily, Charles decided to seek public office from which he would be better able to assist his fellow Fayette Countians and help ensure Fayette County lives up to its motto, "Where Quality Is A Lifestyle."