Edward "Edge" Gibbons Vice Chairman, County Commissioner
District 3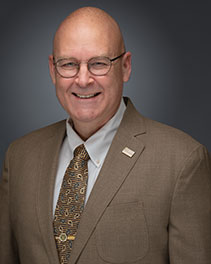 Commissioner Edward G. "Edge" Gibbons was elected to the Fayette County Board of Commissioners in November 2017. He is serving his first term as a Commissioner and holds the District 3 seat.
Colonel (Retired) Edward G. "Edge" Gibbons served in the US Army for 27 years as an Infantry Officer. Over the course of his career, he served in a variety of command and staff positions in the 82nd Airborne Division, the 4th Infantry Division (Mechanized), the 3rd Infantry Division (Mechanized) and the 172nd Separate Infantry Brigade (Light), among others.
After retiring from the Army, Edge settled into Peachtree City and has been a resident of Fayette County for 10 years. He graduated magna cum laude in 1982 from Auburn University, earning a BA in History and Political Science. He also holds Master's degrees from Troy State University, the US Army School of Advanced Military Studies, and the US Air Force Air War College.
The disciplines Edge learned in while serving in the military have given him many tools that bring value to the County Commission. As Commissioner he is committed to listening, learning and leading. "I will listen to your concerns; I will learn from you each day as we confront the challenges that face our community; and I will bring conservative, common sense leadership to the Board on your behalf."
Edge is currently employed as a Proposal Management Specialist in Peachtree City. His wife Piper, is also a veteran Army officer herself and has built a non-profit named Healing4Heroes (H4H) dedicated to training rescue dogs to be service dogs for combat veterans who need help with PTSD and other issues.
Commissioner Gibbons is honored to join the Fayette County Board of Commissioners and is looking forward to serving the Fayette County citizens for the next 4 years.
Contact Information
Edward Gibbons, District 3
Term expires: 12/31/2026
140 Stonewall Ave. W., Suite 100
Fayetteville, GA 30214
Cell: 678.708.1262
Office: 770.305.5120
Email: EGibbons@fayettecountyga.gov