History and Jurisdiction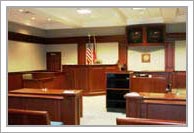 The State Court of Fayette County was created in 1994 by local legislation of the Georgia General Assembly (Ga. L. 1994, p. 4980). State Court began operating on January 1, 1997. The Honorable W. Fletcher Sams served as judge from 1997 through October 4, 2010. Judge Sams was succeeded by the Honorable Carla Wong McMillian until her appointment to the Georgia Court of Appeals. The Honorable Jason B. Thompson was appointed as State Court Judge of Fayette County by Governor Nathan Deal in April 2013 and sworn in on May 22, 2013.
State Court is a court of limited jurisdiction. State Court has jurisdiction, within the territorial limits of the county, over all criminal matters below the grade of felony, including misdemeanors, traffic violations, and county ordinance violations. State Court has jurisdiction over all civil matters, without regard to the amount in controversy, concurrent with the Superior Courts, unless the Superior Courts have exclusive jurisdiction. The State Court also has jurisdiction over the review of decisions of other courts as provided by law.
Criminal violations handled in State Court are prosecuted by the Office of the Solicitor General .