The Honorable
Jason B. Thompson
Judge, State Court of
Fayette County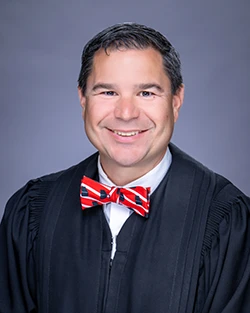 Jason B. Thompson is the State Court Judge for Fayette County. Prior to his appointment to the State Court bench in May 2013 by Gov. Nathan Deal, Judge Thompson served his community as a prosecutor, Municipal Court Judge, and Magistrate Court Judge.
In 2016, Judge Thompson created the first DUI/Drug Court in the Griffin Judicial Circuit.
Four years later, he created the Veterans Treatment Court. Both accountability court programs focus on alternative sentencing for those criminal defendants with substance abuse and/or Post Traumatic Stress Disorder.
Since their inception, the DUI/Drug Court and Veterans Treatment Court have successfully graduated 70 participants and saved this community almost $1M in jail costs.
Judge Thompson has served as President of the Fayette County Bar Association as well as the AFC Lightning Soccer Club. He has served as the Board of Directors of the Fayette County Development Authority, The Joseph Sams School, Southern Crescent Chorale, AV Pride, and Fayette County Youth Soccer League. He has coached mock trial teams at Fayette County High School and Mcintosh High School. In 2006, he served as the statewide chairman of the High School Mock Trial Program. Judge Thompson has served as an Adjunct Professor at Point University and annually organizes a special program in the com-munity: The People's Law School. He is both an organizer and graduate from Leadership Fayette.
Judge Thompson is currently a member of the Peachtree City Rotary Club and serves on the Executive Committee for the Council of Accountability Court Judges. He represents the State Court Judges on the statewide Access To Justice committee and is a lecturer at the New Judges Orientation.
His professional and community awards include the 2022 Dreambuilder Award from the Fayette County Chamber of Commerce, the 2022 Golden Eagle Award from the Boy Scouts of America, and the Avenues of Service Award from Rotary International. Additionally, he is a Distinguished Alumni in the Fayette County High School Hall of Fame.
Judge Thompson and his wife, Judge Alisha Thompson, met in law school. They live in Fayetteville and spend most of their time chasing three active kids.